We're not
your typical fractional support.
A Fractional Chief Revenue Officer (CRO) Is Not Enough
True Revenue Scale Requires a Revenue Growth Team
Holistic Revenue Strategy
Companies don't scale revenue overnight, especially not with siloed departments acting independently of each other. We view Revenue Engines from a holistic perspective encompassing equal emphasis on Branding, Marketing, Sales, Customer Success, and RevOps.
Modern Sales and Customer Success teams must collaborate with Marketing Departments and leverage technology and automation to their full effect.
The result? High-quality prospects, streamlined sales processes, more closed deals, and delighted customers.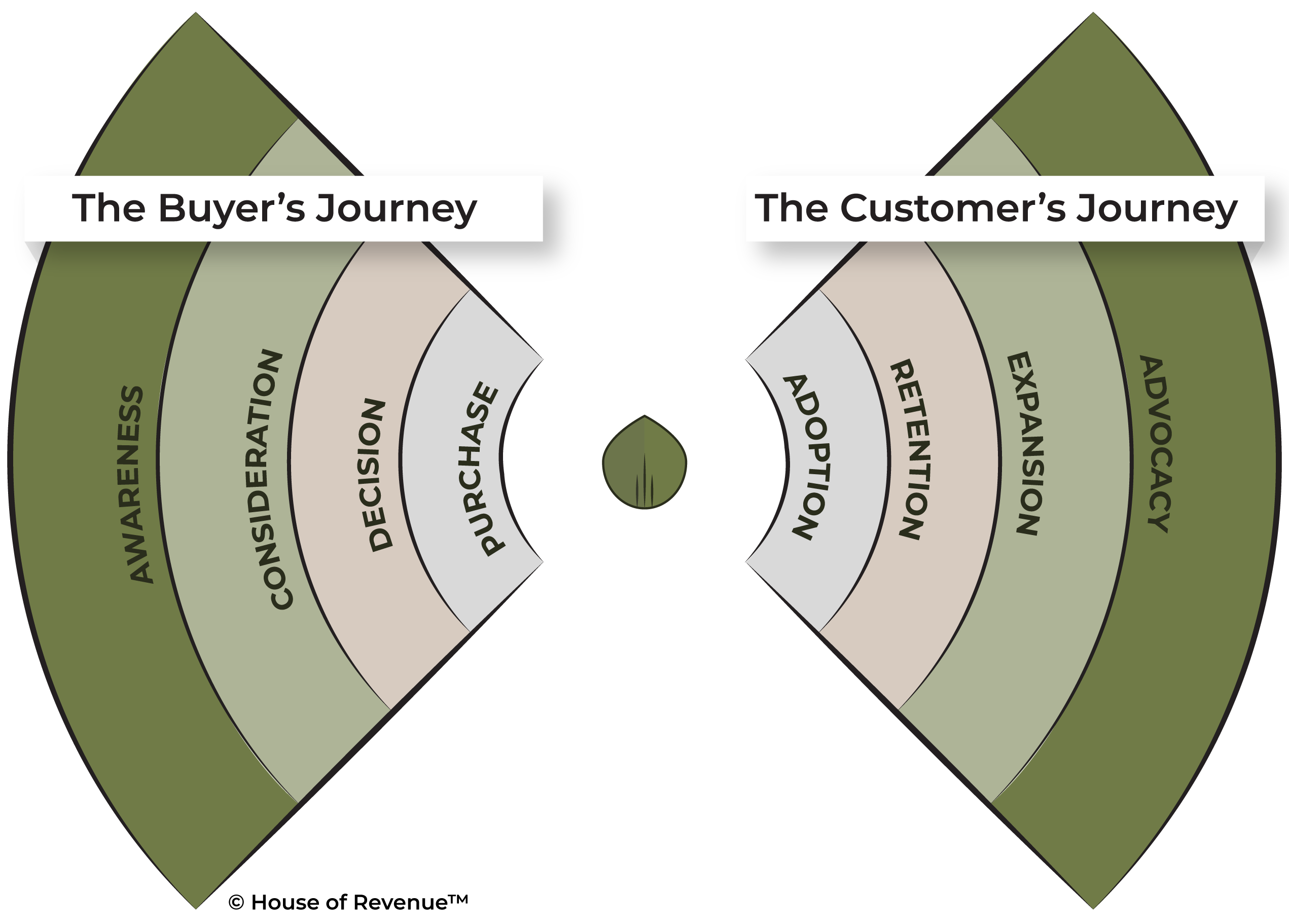 Why hire a single-person CRO — who typically makes between $250k and $400k per year along with their necessary supporting cast — when you can add a Revenue Growth Team for that same cost who builds your GTM, brand, website, and entire Revenue Engine and sets you for scale?
Your Fractional Revenue Team
Hiring a Chief Revenue Officer (CRO) may seem like a logical investment and the first step when you're ready past startup scale and ready for your next phase of growth.
However, this brings challenges. The CRO role is still in its infancy, many candidates typically have a strong bias toward sales, and there is a small talent pool to recruit those willing to work for what you can pay them.
Plus, once you hire a Chief Revenue Officer, you must also build a high-performing team behind them.
Why hire a single-person CRO — who typically makes between $250k and $400k per year along with their necessary supporting cast — when you can add a Revenue Growth Team for that same cost who builds your GTM, brand, website, and entire Revenue Engine and sets you for scale?
We equip you with a Fractional Revenue Growth Team with a consistent success rate of scaling second-stage companies for roughly $30k per month (investment varies based on the size of your company).
In 2022, we have the capacity to serve 12 2nd-stage growth companies that are past startup scale, with a starting revenue above $3M, and ready to invest in building a holistic Revenue Engine that will set them for scale to $10M - $20M and beyond.
We do not work with startups or companies under $3M in annual revenue.
Scale & Growth
are not the same.
Long-Term Scale vs. Short-Term Growth
Companies that want to grow expect results overnight without considering the costs associated with getting those results.
Companies ready to scale understand the need to align people, systems, and processes before strategizing revenue-generating solutions and executing that strategy.
At House of Revenue®, we work with the latter — second-stage companies who have reached a revenue plateau and understand that they need to rework their Revenue Engine to climb the next mountain. We do not work with startups.
+

$11.7M Average Starting Revenue
+

63% Average Revenue Growth
+

$5.24M Average YOY Revenue Increase
Thinking
about a Fractional CRO?
House of Revenue® begins with a 40-day, $40,000 contract, with the ability to enter a 12-month contract if both parties agree your company has a viable path to scale revenue and that we want to work together. We allocate the first 40 days for auditing and developing robust go-to-market strategies, followed by a 12-month revenue project plan focused on building those initiatives and driving them to fruition.
We follow an Audit, Research, Build, Test, Optimize, and Scale approach.
Audit & Research Phase
We send you a checklist of items needed before we begin work and then run an 8-hour discovery day together.
From there, we conduct deep dives, audits, 1:1s, and extensive research over a 3-week period to prepare your gap analysis, Go-to-Market Toolkit, and a robust 12-month revenue project plan to guide our work together.
With an understanding that the 12-month revenue project plan will remain agile, adaptable, dynamic, and managed inside of ClickUp, our teams will have up to 8 business days to review and agree to work together or not. If we choose not to work together, you may purchase the detailed revenue plan with all our research and findings for $10,000 totaling your initial investment to $50,000.
Build & Test Phase
As we launch our 12-month revenue project plan, we spend approximately 90 days building the foundation of your go-to-market strategy and revenue ecosystem. Then we spend 90-days testing to ensure success before optimizing.
Optimization & Scale Phase
Now we lead the overall revenue engine, providing high-level CRO and CMO strategy as well as applicable revenue amplification activities, typically lasting through months 6-9.
Empower Phase
The final 3 months are reserved for your long-term revenue leadership plans. Some clients choose to pursue hiring the House of Revenue CRO or CMO who helped them scale. If the placement is mutually desired, the placement fee is $100,000 per hire and we require a 3-month transition to ensure their other work is picked up by another team member.
Logistics
Each revenue team (CRO + CMO) only works with two clients, and they are fully immersed in your company while we work to build your revenue engine and scale revenue. If there is no mutual alignment for the placement, our recruiters will source, onboard, and train your new revenue leaders if there are not any internal prospects inside your company.
The monthly retainer fee for your House of Revenue team is determined based on your revenue size.
The monthly retainer fee is reduced by 50% in month 7 as our team starts earning commission on new revenue attained, at the percentage agreed upon in the revenue economics forecast that is delivered on Day 40. Your expected revenue growth is presented on Day 40 as well and will be a part of our teams' decision to work together or not.
As a condition of the 12-month contract and revenue project plan execution, we make recommendations for building a new website, recruiting revenue positions to fill out your org chart, and developing your database with enriched or new contacts, extracted from our ZoomInfo license (if you do not have a reliable data source), as needed.
These fees are billed in addition to the monthly retainer fee. They are presented on Day 40, and if we agree to work together, will be expected to be honored as we execute the plan.
We partner with two paid media teams, and you will have the option of which team you work with, or you may use your own. Those fees are invoiced by the paid media teams.
We have a partner for technical SEO who owns a proprietary system that generates hundreds of backlinks. If we feel your revenue engine would benefit from this, we will obtain a quote for your review.
You will pay for your tech stack directly with each technology vendor (i.e. HubSpot), as those fees are not included above.
All House of Revenue engines are built on HubSpot, unless specifically mutually agreed upon. In rare cases, we will agree to keep your tech stack in place, but 95% of the time, our clients are already on or move to HubSpot. This will be discussed in the first 40-Days and the determination of the best tech stack will be presented and be part of the agreement to work together.
Now,
it's time for a visual.
Our Phased Approach
40-Day Audit & Research Phase
Below is our 6-week audit process. The items highlighted in black are key meetings you and/or key members of your team will be expected to attend.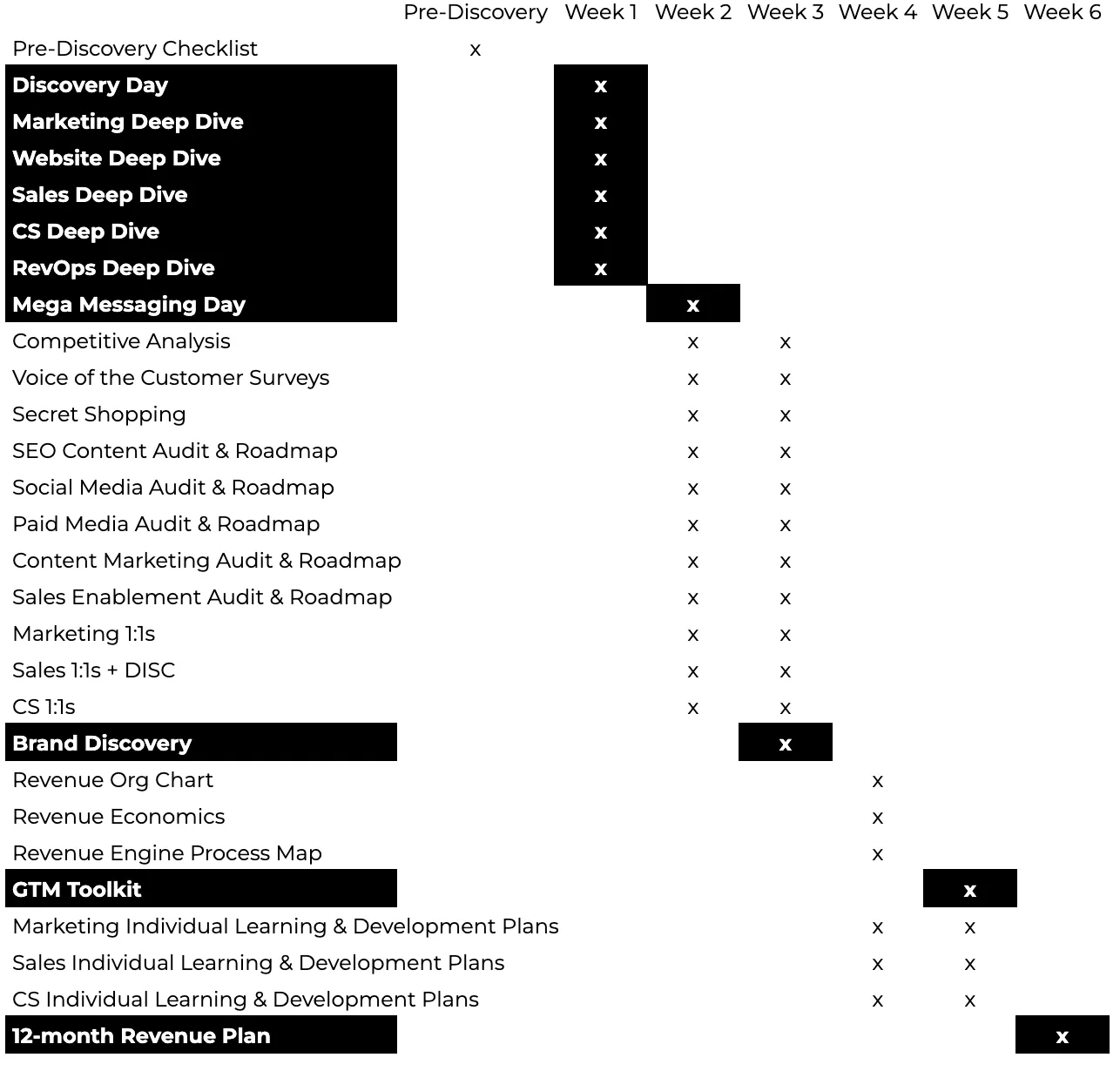 40-Day Audit & Research Phase - Detail
Below is the outline of what we cover in our Discovery Day, GTM Toolkit, and Revenue Project Plan.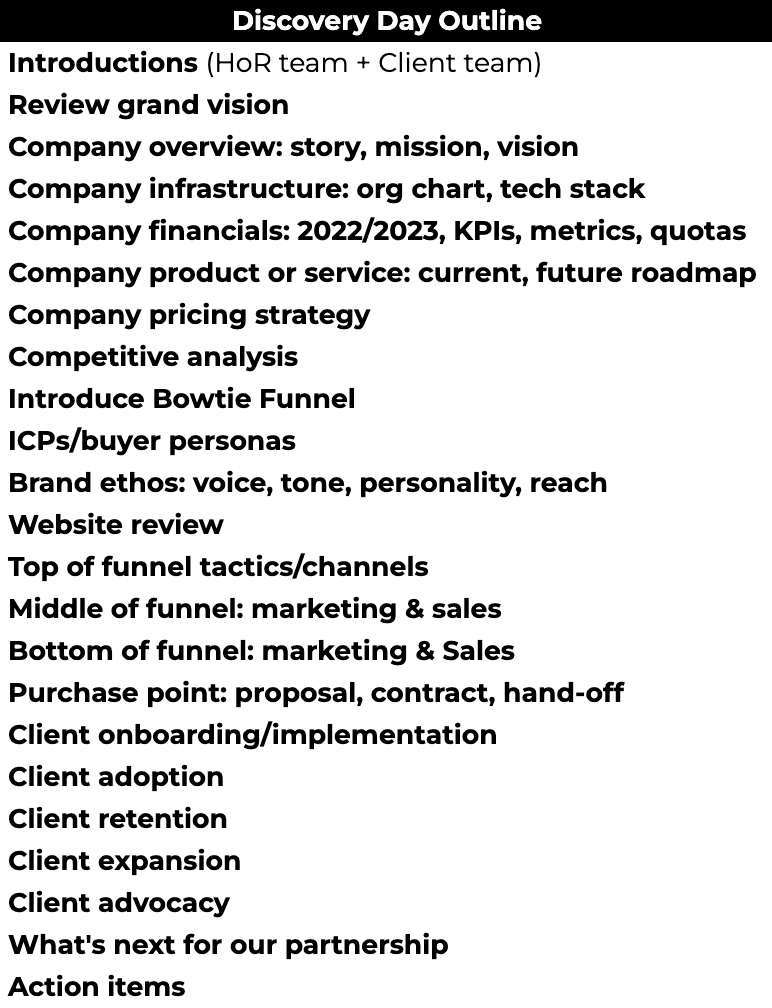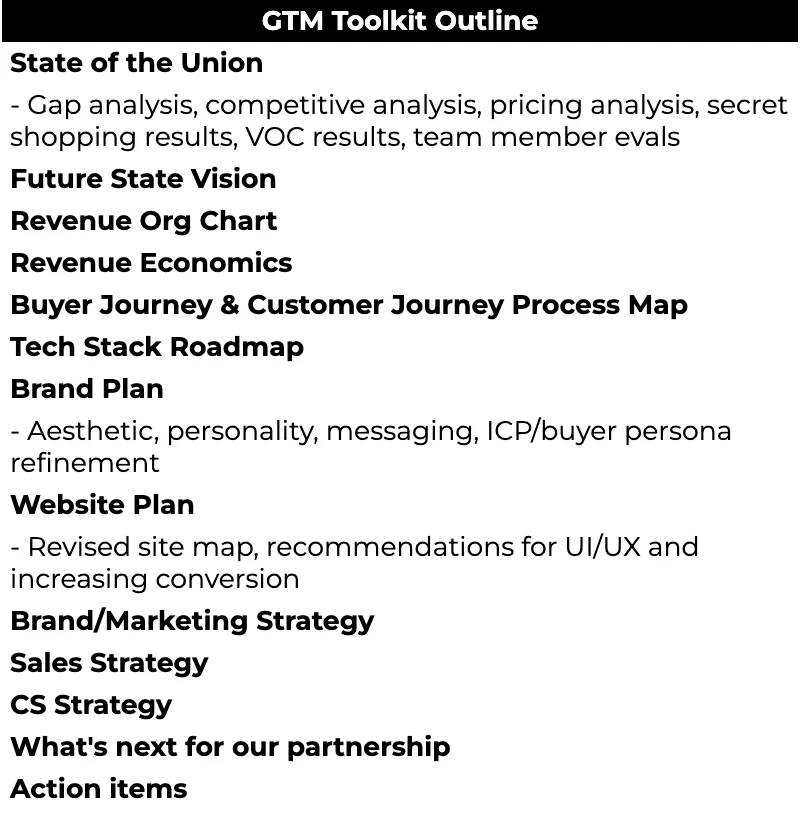 Build & Test Phase (months 1-3)
Optimize & Scale Phase (months 4-9)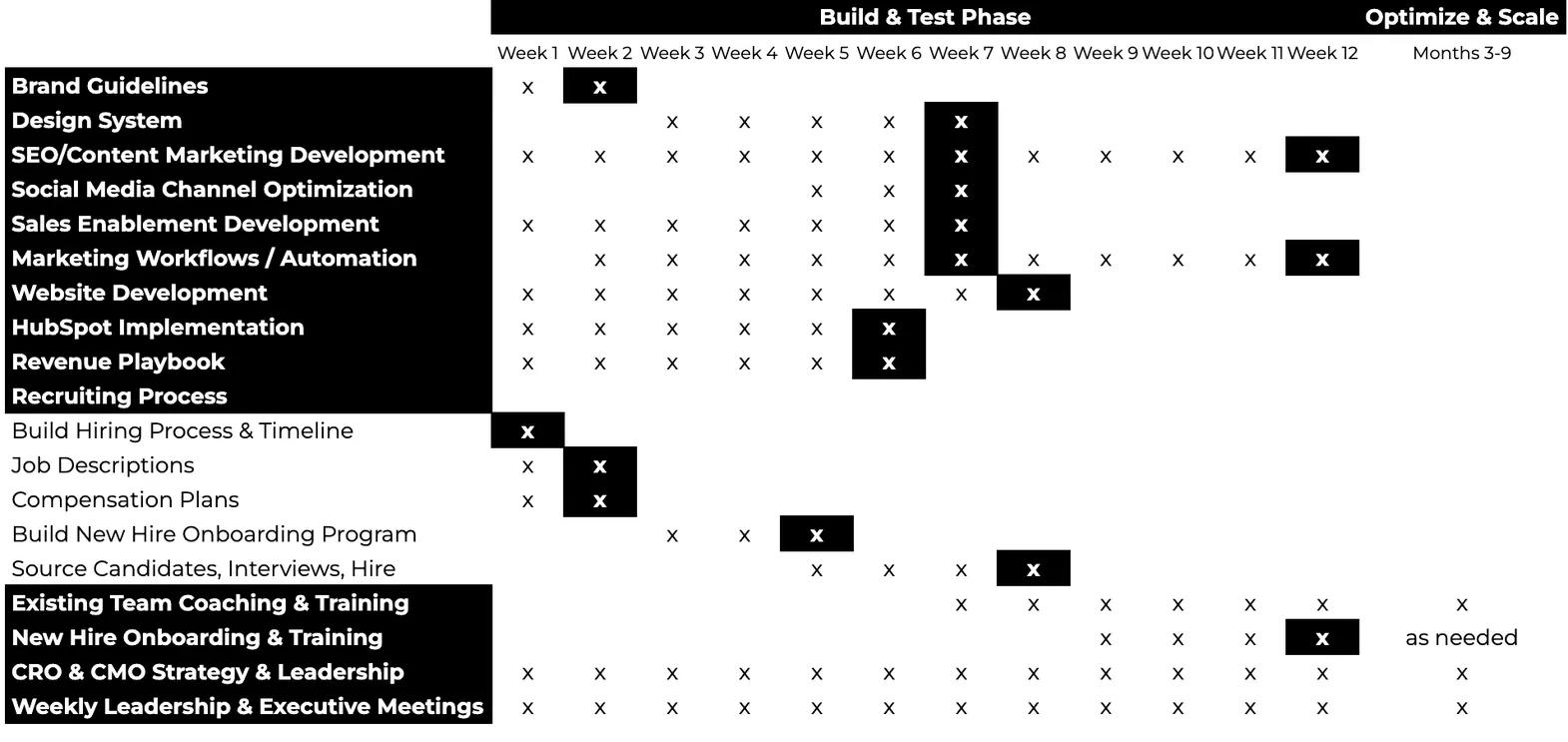 Empower Phase (months 10-12)
Once we've built your foundation, optimized it for efficiency and scale, and spent 5-6 six months executing, it's time to begin our transition. During the Empower Phase, we focus on the essential items that make it feasible for your team to take the reins and continue on your path to scale independently.
Key focus areas:
Additional recruiting (typically for management and leadership roles)

Systems training refreshers

Data analysis to ensure the GTM and revenue engine are still performing and will sustain
Recruiting
If you choose to recruit one of the House of Revenue team members, we must know as early as possible so conversations can begin and transition plans can be developed if there is a mutual fit.
Fresh Content
for Business Leaders
Interested in Learning More About Our Process?
Then download an example 12-month Revenue Program Template we use with our clients. This same plan has helped our clients experience a 1,125% return on their investment in our services.
Get it Now